TUTORS INCLUDE: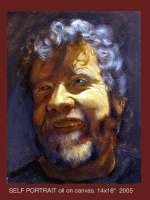 JUDY WATSON JANET LAWRENCE DAVID PAULSON LANCE BRESSOW JOHN MARWUNDJUL TOM OUELLETTE Costa Vavagiakis Michael Grimaldi Bardayal Njemerrek Ryan Daffurn Scott Breton Nick Leavy
EXHIBITIONS:
Kennigo Street gallery. 1964
Exhibited "AMNIOS" Queensland Art Gallery 1969
Rebels Without a Course. Fireworks Gallery 1991
Campbell-Mahony Gallery 1999
Pine Rivers Art Awards 2001
Queensland Art Teachers Association 2001
Princes Hill Community Artists 2006
"Focus on the Figure" Pine Rivers Regional Gallery 2009
Moreton Bay Region Art Awards  selected finalist 2010 2012 2013 2015
NEWSFLASH! Not selected finalist for 2014. First rejection. Which gallery wins this year?
"Thats Life" Life drawing James Cook University 2012
Members Exhibition Royal Queensland Art Society 2012
Atelier Art Classes Summer Show 2012
ITS A JUNGLE OUT THERE. Royal Queensland Art Society solo Exhibition 2013
Studio 368 Albion 2013
Atelier summer show 2013 Still Life award.q
student exhibition Art StudentsLeague New York USA 2014
Finalist.  RQAS inaugural Qld Figurative 2014
Atelier summer show 2014
Nature Morte RQAS 2015 Peoples choice award for "BLUE PICNIC"
Black Paintings. Drawings and paintings,  the Corridor Gallery, Old Bomb Factory, solo. 2015.
Works are in several private collections, in Australia and overseas. These are shown in the GALLERIES and Works in private collections. For a complete listing, see the Retrospective.
BIOGRAPHY:
Born Brisbane 1945
Art Teacher Mt Isa 1965 Head of Department The Arts (several schools)
Director Pine Rivers Regional Art Gallery 2004
2005-2007living in Melbourne. When not painting and drawing Brian designed,built and painted ballet sets for The Australian Conservatoire of Ballet
2007 Living and studying in Boston MA. USA 2008 -20?? Living and working at my studio in KURWONGBAH,Queensland, AUSTRALIA
nov 2013- feb 2014 Art Students League New York full time drawing
2015 kurwongbah.